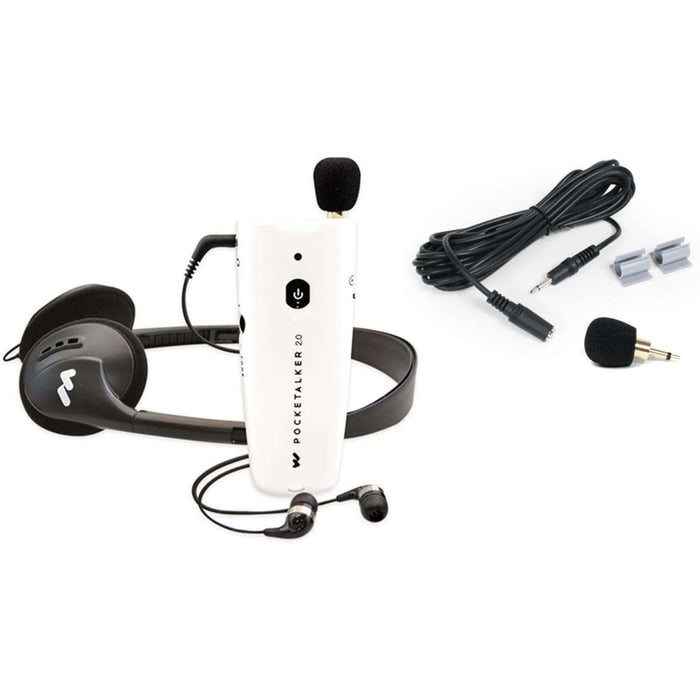 Williams Sound Pocketalker 2.0 With Headset, Earbuds and External Mic PKT 2.0
A terrific device for someone who has a hearing loss and does not wear hearing aids or someone who needs a little extra volume in a difficult listening situation.
Portable, battery operated, and easy to use with the included headphones or earbud. 

The adjustable tone control is great at helping to clarify those words a hard of hearing person struggles with in the lost frequencies. 
Also enjoy wonderful sound performance when you combine the Pocketalker with a 
Neckloop
and T-switch equipped hearing aid or cochlear implant.
New features in this updated Pocketalker model include a new ergonomic design to the exterior case, an internal microphone, and a built-in T-coil.  
Where and induction loop hearing assistance system is set up the T-coil switch should be turned on to receive audio through the Pocketalker 2.0. If you have hearing aids/cochlear implants with T-coil, you will not need to use the T-coil switch in the side of the Pocket talker. 
The device still includes a plug-in microphone and for the TV listener, an extension cable for the microphone to be placed closer to the TV speaker or passed around a small group of people.
The battery life of up to 106 hours promises long-lasting performance.
Great for 1-on-1 conversations, visits to the doctor's office, pharmacy, lawyer or listening to the TV and radio, listening to conversation in the car, or in small groups. 

The Box Includes:
(1) EAR 042 dual stereo isolation earphones
(1) HED 024 stereo headphones
(1) MIC 014-R plug-in (no cord) microphone
(1) BAT 010-2 two AAA alkaline batteries
(1) WCA 007 WC 3.5mm male to 3.5mm female cable with mounting clips
(1) RCS 003 lanyard
 ** Additional accessories can be purchased separately
 FEATURES
Dimensions: 4.9"L x 2.0"W x 1.0"H. (124mm x 51mm x 25mm), (Not including belt clip or microphone assembly)
Weight: 3.1oz. (88 grams) (with batteries and microphone)
Color/material: White, ABS/Polycarbonate molded plastic case.
Microphone: Omnidirectional, electret microphone assembled in housing with a foam windscreen and 3.5mm mono plug.
Tone Control: External rotary control knob to allow users to optimize hearing.
Volume Control: External rotary control knob with a power ON-OFF switch.
Microphone Jack: 3.5 mm, stereo mini-plug.
Headphone Jack: 3.5 mm, stereo mini-plug.
T-Coil: Internal with on/off switch and LED indicator. Pick up Hearing Loop electromagnetic field with Pocketalker 2.0 and listen through headset. 
TV listening extension cord: extends the microphone to 12 ft.
Accessories included: Belt clip: This allows the user to wear the unit on a belt.
Battery Type: Two 1.5V (AAA size) alkaline or NiMH rechargeable
Battery Life: 106 hours (typical usage)
Low Battery Indicator: Red light on top panel flashes.
Lanyard: This allows the user to wear it around the neck. and prevents dropping the device or damaging it. 
Tone Control: External rotary control knob allows the user to adjust high/low frequency to optimize hearing. Tone at mid position: 0dB boost at 5kHz, 4dB cut at 400Hz. Tone at low position: 3dB cut at 5kHz, 4dB boost at 400 Hz.
Warranty: 5 years, parts, and labor (90 days on accessories)
NOTE: The Pocket talker is not sold, advertised, or intended for use as a personal hearing aid. Williams Sound recommends that any individual experiencing hearing loss be examined by a physician to determine the cause before using amplification.