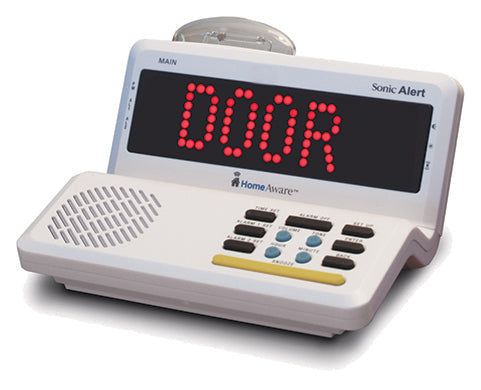 Alerting Systems and Signaling Devices
Receive alerts to important events in your home such as smoke and carbon monoxide gas alarms, doorbell, cellphone and landline incoming phone calls, baby cries, door and windows opening, and many others.
Use flashing lights, loud alarms, vibrations, or a combination of these alerts to notify you.  These devices are especially helpful at night to wake you up!
When shopping for Silent Call or HomeAware System devices follow these steps: 
Step 1: Choose one Receiver for each room you wish to be notified in. (Add a bed shaker if you need to wake up at night for these events.)
Step 2: Choose a Transmitter for each type of event you wish to be notified of.
It is recommended by the Fire Department to have at least one smoke detector on EACH floor of your home, including the basement.  You may want to consider a smoke detector in each bedroom as well. A carbon monoxide (CO) detector should be placed outside the bedroom door so that you are alerted when and where you are sleeping. 
Please check your local fire code if you are unsure of how many and the placement of these life saving devices. 
If you require funding support, please view this Funding page for additional information.  You may qualify under AISH, VAC, AADL, DRES, WCB etc. or from a private foundation.  We are happy to assist you with your funding application and supply you with a quote to include with it.