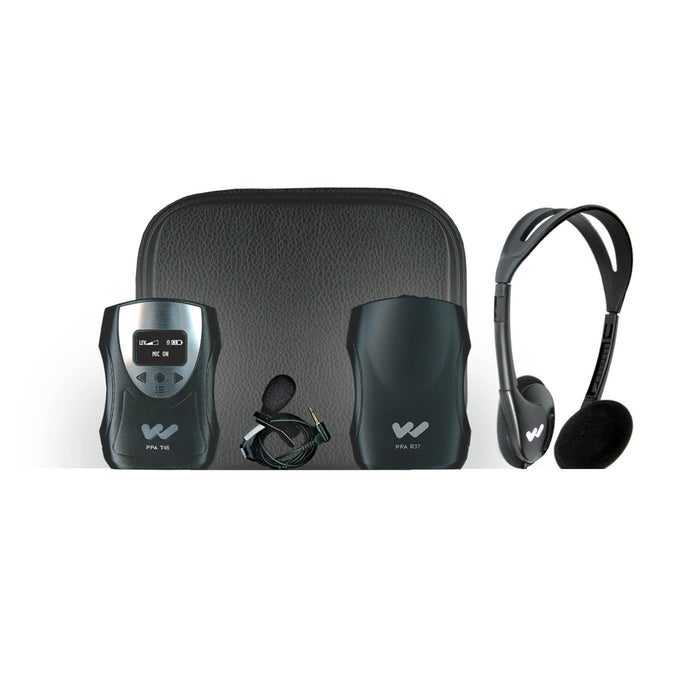 Williams Sound PFM PRO Personal FM Listening System
The PFM PRO Personal FM System delivers superior audio directly to the ear, enhancing sound at home, work, or school – anywhere background noise or distance from the source makes listening difficult.

Each system features:
A versatile 3.5mm jack allows for a variety of earphones and headphone options, and is compatible with neckloops and telecoil-equipped hearing aids (not included with system).
Uses alkaline batteries
Improves listening for individuals or in groups
16 selectable channels, 72-76MHz Auxiliary input: broadcast any audio source
Flexible receiver: listening using a plug-in mic, FM signal, or mix 3.5mm mono mic input jack for use with a variety of headphones/earphones, and is neckloop/hearing aid and cochlear implant compatible
2.5mm stereo auxiliary input jack
Tone, compression, mute control
Range of up to 150 feet (45.7m)
PFM PRO Personal FM Listening System includes:
(1) PPA T46 FM transmitter,
(1) PPA R37N FM receiver,
(1) MIC 090 mini lapel clip microphone,
(1) HED 021 folding headphone,
(1) EAR 041 single isolation earphone,
(2) BAT 001-2 AA alkaline batteries,
(2) CLP 023 belt clip,
(1) CCS 043 leatherette carry case
Ideal for Classrooms, Small-group listening, Employee training, Consultations, Place of Worship, Conferences, or One-on-one conversations.