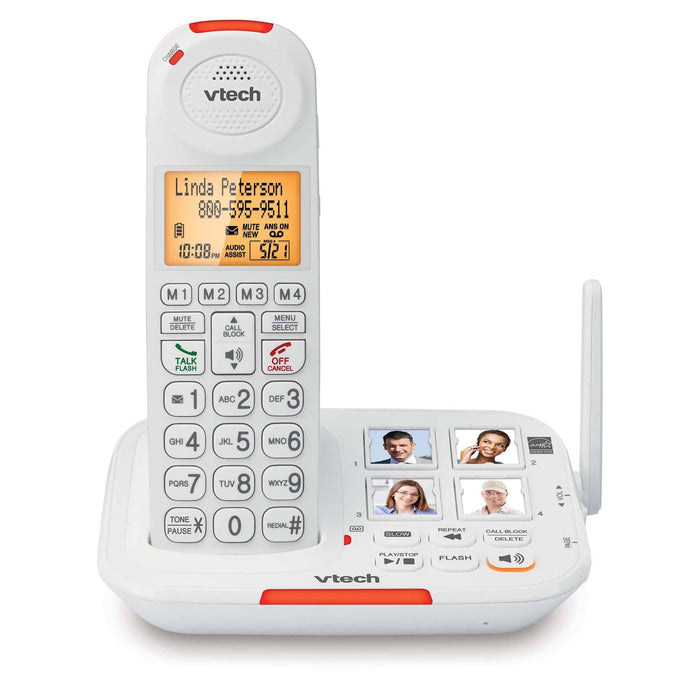 Vtech SN5127 Amplified Cordless Phone with Answering System, Big Buttons, Extra-Loud Ringer & Smart Call Blocker
Make calls without having to remember phone numbers with this VTech CareLine amplified cordless phone. The photo dial option lets you press a single button to contact friends or family members, and the any-key answer makes it simple to receive calls. The 90dB ringer provides a loud sound that's easier to hear. Its DECT 6.0 technology ensures secure calls and superior range. 
The built-in digital answering system records up to 22 minutes of messages and is easy to set up thanks to an audible guide that walks you through the steps. An extra-loud 90dB ringer makes it easy to hear incoming calls throughout your home.

Plus, a light on the top of the user-friendly handset and base unit flashes when the telephone rings, signaling an incoming call. This feature is especially helpful for those who are hearing impaired.
50dB Audio Assist
Photo dial
Big buttons, large display
Visual ringing indicator
Smart call blocker
Any key answer
Slow play function
Call screening
Caller ID announce
90dB ringer volume
Digital answering system with voice guide
If you subscribe to digital subscriber line (DSL) high-speed internet service through your telephone line, make sure you connect a DSL filter (not included) to the telephone wall jack. 
Additional Accessories can be added to this system:
Amplified Cordless Extention Ringer VTech SN7014 
Cordless Audio Doorbell Vtech SN7021