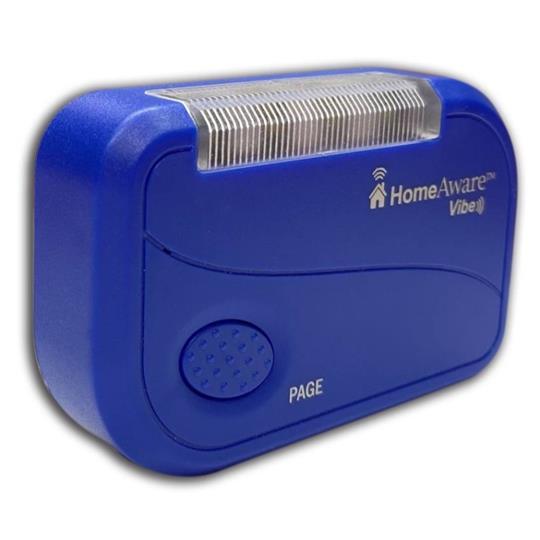 Sonic Alert HomeAware Vibe - HA360VB2-1
Feel safe in your own home with this Body-worn vibrating pager.
The HomeAware 360 Vibe connects to the HomeAware II Main Hub. This personal pager will alert you to events like the Smoke and Carbon Monoxide detector alarms so you can evacuate quickly and safely.  
The HomeAware 360 Vibe will alert you with multiple LED lights, vibration, and an audio alert, and all will be patterned to a specific alert. See and feel alerts to other sounds in the home, including the doorbell, baby cry, intercom, and timers. 
Clip the HomeAware Vibe to your waistband or slip it into a pocket and enjoy the freedom of never missing an alert again.
The HA360VB vibrating pager can also act as an emergency alert notification device if you have fallen or have another emergency. Simply pushing the button on the front of the unit will send an ALERT notification to all your HomeAware receivers and the Main Hub. Because it is portable and has an increased range due to the HomeAware's mesh network, you will be safe throughout your entire house and yard. 
Connect to the HomeAware II Main Unit Signaling HUB to receive signals throughout your home. 
Features
Emergency alert button when help is needed.

Customizable alerts, vibrations, sound, flashing lights, and different colours for different alerts.

Ultra-high brightness strobe for maximum visibility.

Clips easily on the waistband and is small enough to slip into your pocket.

Connects to the HomeAware Main Hub unit to operate.