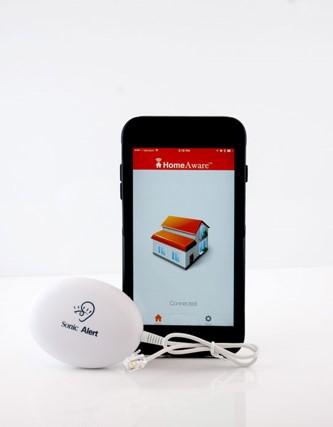 Sonic Alert HomeAware Smartphone Transmitter HA360SPT2.1
Link your IOS or Android phone to the HomeAware system to receive alerts by light or vibration via Bluetooth.
The HomeAware™ HA360SPT Smartphone Transmitter allows you to link your Apple or Android smartphone to your HomeAware system. The smartphone transmitter connects to the back side of the main  receiver unit of the HomeAware.
The smartphone transmitter also will push alerts to your smartwatch depending on the model. (Samsung Gear, Fitbit, Apple, Pebble and etc.)
The HA360SPT enables you to be notified on the HomeAware system when you receive incoming calls and text messages on your smartphone. Notifications are shown on the HomeAware™ Main Unit and Remote receivers.
Please note that only one smartphone can be connected to the HomeAware™ HA360SPT Smartphone Transmitter at a time.
The HA360SPT Smartphone Transmitter disc plugs into the 4P4C jack labeled "Cell Phone Detector" ONLY . Plug a HomeAware™ HA360SPT into this jack!
Install the HomeAware™ app on your smartphone. Available for iOS on the Apple App Store®, and for Android™ on the Google Play™ Store. Follow the instructions in the HomeAware™ app. 
Android App https://play.google.com/store/apps/details?id=com.sonicalert.homeawarev2 
Apple App https://apps.apple.com/us/app/homeaware/id1107999068
The app will alert your smartphone to door, smoke/CO, and home phone alerts as well as alert the HomeAware™ to the smartphone text, call, and Facetime alerts while you are in Bluetooth range.
One-year Sonic Alert® warranty. 
You require the 360MHA2-1 HomeAlert System and the HomeAware App to operate this transmitter.