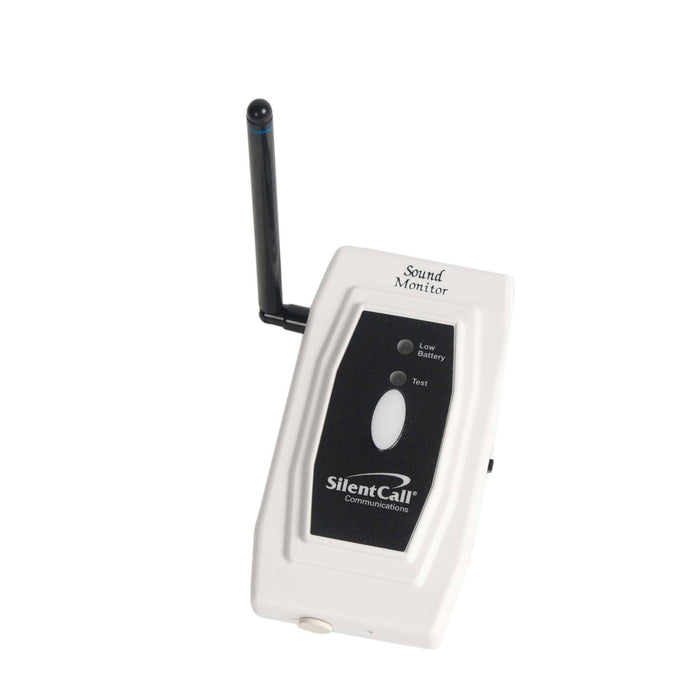 Silent Call Medallion Series Sound Monitor Transmitter SM5-MC
Become aware of a baby's cry, ringing alarm clock, door buzzer, dog barking, or oven timer. Whatever the noise, the Medallion™ Series Sound Monitor alerts you to it. When a sound is detected, it sends a signal to any Medallion™ Series Mini Receiver.
A delay circuit prevents activation by brief noises such as a slamming car door, and a sensitivity switch lets you adjust the sound threshold at which it activates.
Fully portable, it operates on two (2) AA batteries.

Signals when cries, knocks, security alarms, timers are sounded

Works with any Medallion™ Receiver, up to 500 foot range


Operates with million-code technology

Detects a specific sound if desired: a baby's cry, doorbell or telephone

Sensitivity switch lets you adjust the sound threshold at which it activates

Includes a delay circuit to prevent activation by brief noises

Monitors sounds in any room; fully portable

Powered by two (2) AA batteries (included)

Low battery indicator light

Features the Silent Call 5-Year Limited Warranty