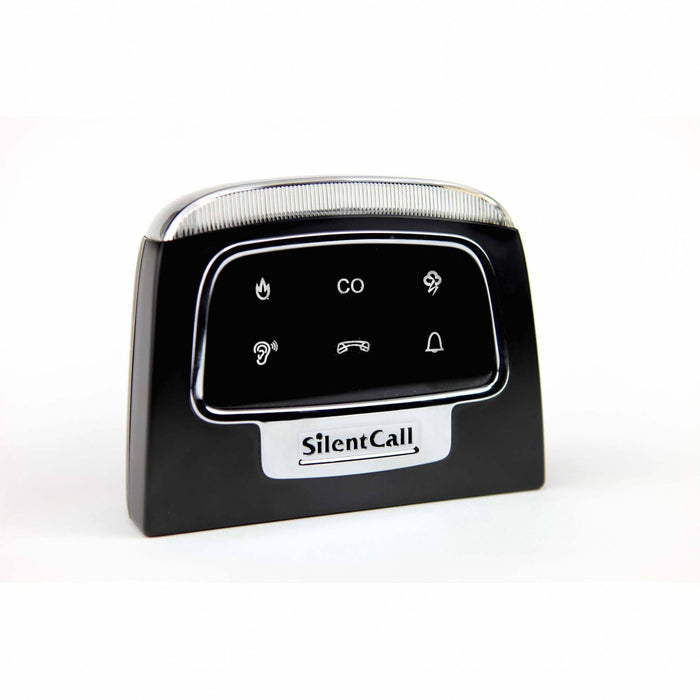 Silent Call Medallion Series Mini Receiver MR1110-MC CANADA
Bright, brighter, or brightest - a three-way strobe light alerts you to events and threats throughout your home or office with the Medallion™ Series Mini Receiver.

Compatible with all Medallion™ Series Transmitters. The Mini Receiver identifies specific alerts with a bed shaker (sold separately) and color LED icons for:
Smoke / Fire
Carbon Monoxide
Mobile Cell / Smartphone
Landline Telephone 
Doorbell 
Baby Cry
Other Sounds (door buzzer, laundry alerts, microwave, bell, dog barking, etc.)
Easy to use, it plugs into any standard 110-volt electrical outlet and includes a built in backup battery. The Mini Receiver also allows you to select bright-brighter-brightest strobe settings and works with the optional Bed Vibrator (VIB-PJ, sold separately).
Additional Mini Receivers can be added in other rooms for system wide alerts. 
Ideal for apartments, dorms, condos, and hotels as well as single-family homes. Easily taken on vacation or sleepovers too. 
Place a receiver on your desk, end table, nightstand, counter, or other flat surfaces. Up to 500 feet or 152 meter range for indoor and outdoor use.

Alerts you to landline phone calls, cell phone calls, doorbells, sounds, fire, smoke, and carbon monoxide. These transmitters are sold separately so that you can create a system for your specific needs and situation. 

Notifies you with a flashing strobe light (three settings)
Activates the Bed Vibrator (VIB-PJ) sold separately
Identifies specific events with one of five coloured icons
Operates with million-code technology
Plugs into any standard 110-volt electrical outlet
Includes a backup battery
The ETL Mark is proof of product compliance to North American safety standards 
Features the Silent Call 5-Year Limited Warranty