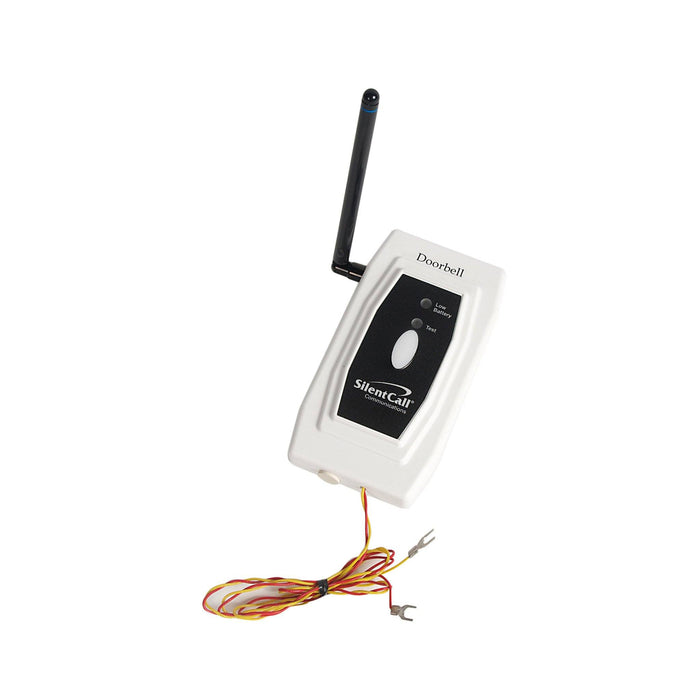 Silent Call Medallion Series Wired Doorbell Transmitter DB1-MC
Connects to your doorbell and alerts you when someone presses the button. Become aware when someone is at your door. When a visitor presses the doorbell button, the Medallion™ Series Doorbell Transmitter broadcasts a signal to any Medallion™ Series Receiver.

Wired to your existing low voltage doorbell chime, it is activated by the same current that operates the doorbell chime when someone pushes the button.

Easy to install and powered by the doorbell's electrical circuit, there are no batteries to replace.

Signals when a visitor pushes the doorbell button
Works with all Medallion™ Series Receivers
Operates with million-code technology designed for apartments, condominiums, dormitories, hotels and public housing to ensure you never get false alarms from neighbors using other RF-based products; also ideal for use in single family homes
Connects to the doorbell wiring; installs easily
Operates on the doorbell electrical circuit; no batteries are required
Features the Silent Call 5-Year Limited Warranty
No batteries required
Range: Up to 500 feet, depending on conditions or receiver used
5-Year Silent Call Limited Warranty