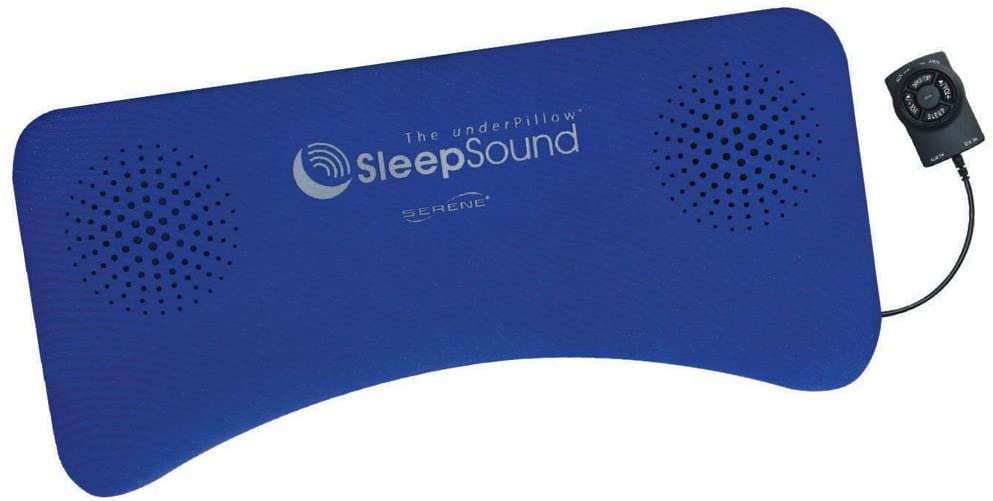 Serene PS200SER Under Pillow Sleep Sound System for Tinnitus Relief
The under-pillow Sleep Sound system lets you enjoy music or pre-recorded, soothing nature sounds in bed to distract your brain and fall asleep faster.
The non-slip design stays in place even if you toss and turn, while two speakers deliver loud, lifelike sounds even through dense foam pillows.
Includes built-in pre-recorded sounds, or use the included connecting cord to listen to music from your smartphone, iPod, MP3 or CD player, radio, or TV. 

Manage the Tinnitus sounds so that you can fall asleep more easily. 
Easy to pack for travel!  
Features
Up to 98dB maximum volume
A soft, thin design ideal for under pillow use - will not disrupt normal sleep.
Premium, high-fidelity speakers deliver rich and fully balanced sound.
Built-in, pre-recorded soothing nature sounds to relax and soothe. Provides relief for tinnitus sufferers.
Ideal for listening to pre-recorded sounds or music from your own audio devices, radio or TV, audiobooks, and more.
Built-in selectable one-hour (60 minute) timer with auto stop lowers volume gradually as users fall asleep.
Wall outlet AC power adapter included - no batteries to replace.
3.5mm audio cable
USB to micro USB charging cable
Pillow clip
USB AC adapter
Dimensions 38.7 cm long x 19.05 cm wide x 2.54 cm thick
Weighs about 140 grams
1-year warranty
Q: How long is the built-in nature sound?
A: It is about 30 minutes long and it will repeat as a loop unless it is stopped.
Q: Can I listen to other program sources other than the built-in nature sound?
A: Yes, just plug in the audio output from your source using the provided cable--radio, TV, smartphone, audiobook, etc. into the AUX IN port of the PS-200 control box. Then, select AUX as input.
Q: Can I download my music into the PS-200 memory?
A: You can download up to 30 minutes of your favourite music in MP3 format from your source. Just connect your USB-to-micro USB cable to the D/L IN port of the PS200 for downloading.
Q: If I have downloaded my music into the memory, what will be the playing sequence?
A: The PS-200 will play your downloaded music first, followed by the nature sounds. These will be repeated in a loop until it is stopped. To skip any recording, just press the < > arrow key.