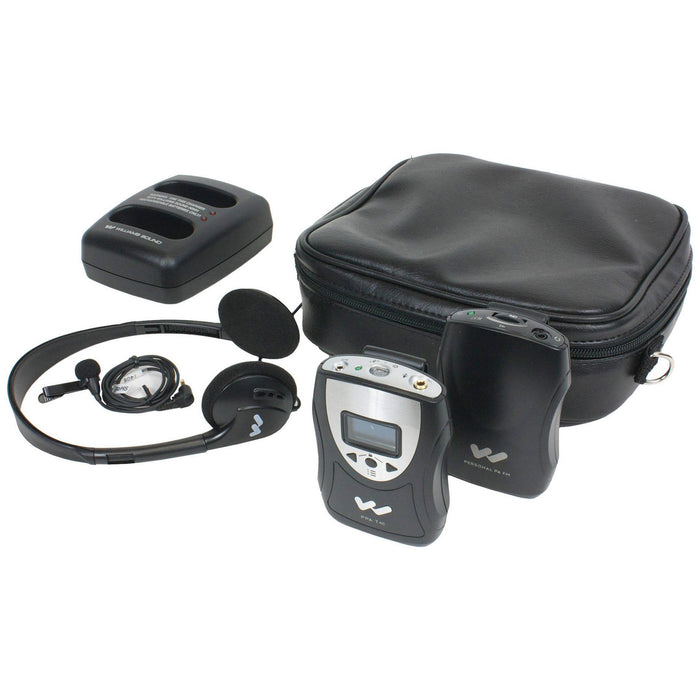 Williams Sound PFM PRO RCH Personal FM Listening System
The Williams Sound rechargeable PFM PRO RCH FM system delivers superior audio directly to the ear, enhancing sound. Use anywhere background noise or distance from the source makes listening difficult such as at home, work, place of worship, or school. 

Each system features 17 selectable channels on the 72-76 MHz band and has an operating range of up to 45 metes or 150 feet.
A versatile 3.5mm jack allows for a variety of earphones and headphone options and is compatible with neckloops and telecoil-equipped hearing aids or cochlear devices (not included with the system).

Applications:
Classrooms
Small-group listening
Employee training
Consultations
One-on-one conversations
Place of worship

Personal FM System Includes:
(1) FM Body-pack Transmitter (PPA T46)
(1) FM Body-pack Receiver (PPA R37)
(1) Single Mini Earphone (EAR 041)
(1) Folding Headphone (HED 021)
(1) Audio Input Cable (WCA 087)
(1) Lavalier Microphone (MIC 090)
(1) Dual Drop-in Charger (CHG 3502)
(2) AA Rechargeable NiMH Batteries (BAT 026-2) - (replaces BAT 001-2)
(1) System Carry Case (CCS 043)