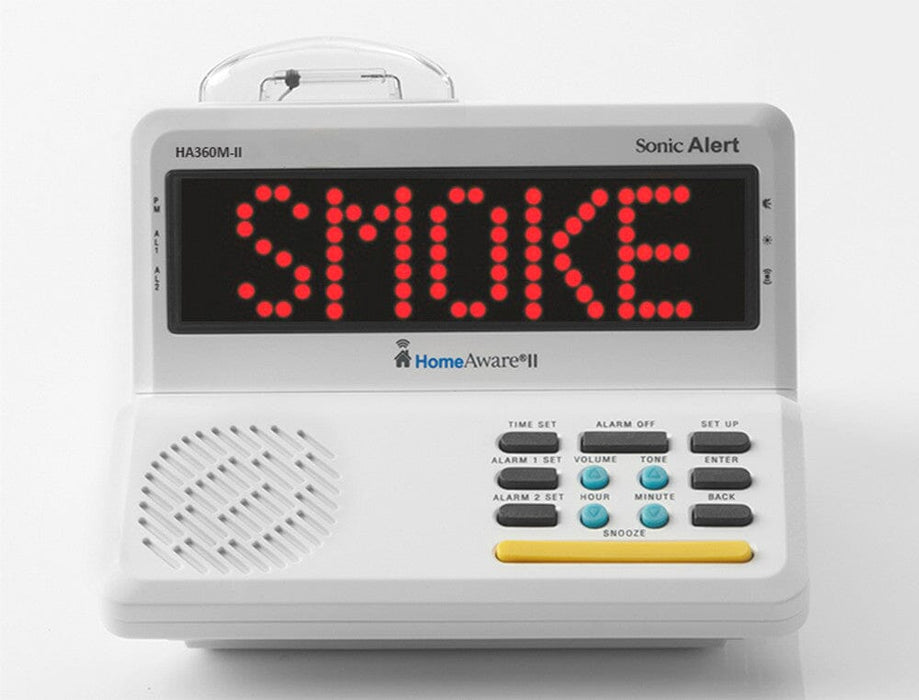 NEW HomeAware II Main Unit Signaling HUB with built in Smoke/CO & Alarm Clock HA360M-II
Receive visual strobe, tactile vibration, and audible notifications up to 105 dB to emergency and sound events. 
There is no other alerting system like the HomeAware – HA360M-II. The HomeAware® II incorporates safety, security, and peace of mind.

With TruAlert RF technology and mesh network, monitor your system every 2 to 3 minutes to ensure all components are communicating with each other. The HomeAware® II has an embedded Smoke / CO listener to notify you immediately if your Smoke / CO detector activates.
New features of the HA-II include:
Voice alert notifications
Built-in smoke and CO listeners
Built-in smartphone transmitter
automatic rechargeable battery
If needed, purchase your HomeAware II Super Shaker bed shaker separately. 
Features:
• Mesh Network ensures constant communication with all devices
• Dual wake-up alarm clock with adjustable alarm and snooze duration
• Bright digital scrolling alert display
• Voice alert notifications
• Ultra-bright strobe light
• Caller ID for incoming landline calls
• Built-in smartphone transmitter scrolls names and numbers on the display screen, showing incoming calls
• Easy setup App for smartphones
• USB charger for smartphones
•  Sensitivity setting for the integrated Smoke / CO Listener
• Works with your weather radio and home security system
• Wi-Fi to connect to the outside world
Includes Sonic Alert One-Year Warranty
ADD the HomeAware II Signaling Hub to create a system and be notified of events in other rooms of your home or office for safety and security.