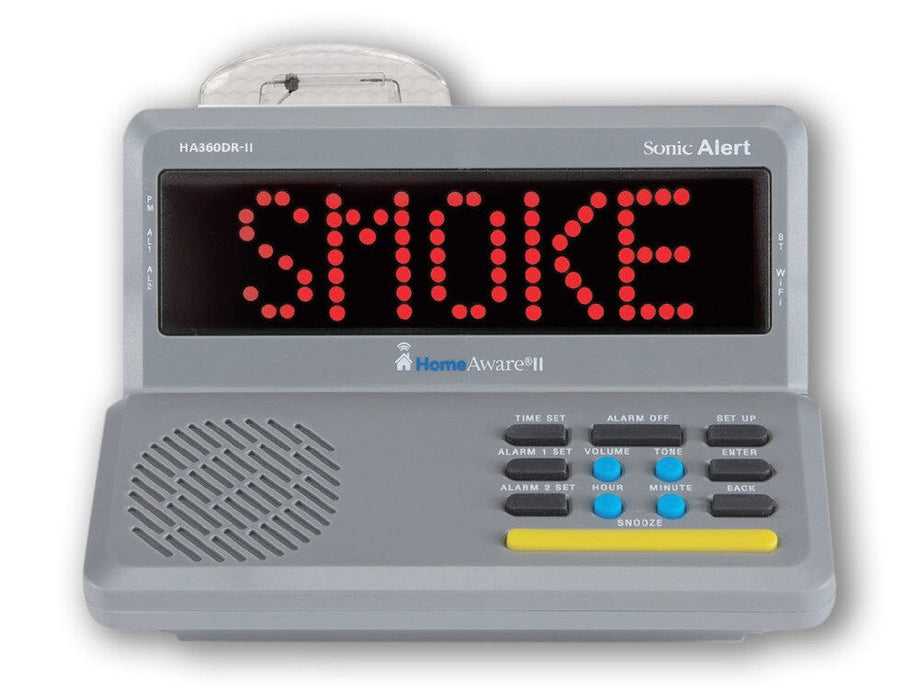 NEW HomeAware Deluxe Receiver HA360DR-II
Receive visual strobe, tactile vibration, and audible notifications up to 105 dB to emergency and sound events. 
Add this Deluxe Receiver to your HomeAware II Signaling Hub to be notified of events in other rooms of your home or office for safety and security.
This receiver also has its own built-in dual alarm clock, loud 105 dB audible alarm, flashing strobe light, and the ability to plug in an optional bed shaker (not included) for vibration notifications while you sleep.

A new feature to this system is the integrated smoke and carbon monoxide (CO) sensor, your Deluxe Receiver will listen for loud continuous sounds, as well as, the sound or pattern of your smoke (T3) or carbon monoxide (T4) alarms.
When a sound or pattern is registered, the system will notify you with one of the following messages:

If a T3 pattern is registered the system will display the notification: SMOKE

If a T4 pattern is registered the system will display the notification: CO

I

f a sound, but no pattern, is registered the system will display the notification: ALERT
The large scrolling text screen lets you know which transmitter(s) activated the alert (e.g., "DOOR", "BABY", "FIRE", etc.).
Worried about missing a call? Not anymore! When connected to your landline telephone or video phone, the caller's number will be displayed on the screen.

With a bright red scrolling 2-inch display, eye-catching strobe flash, and up to a 105 dB audible alarm, all of which you can mix and match, to customize your system notifications.
The Deluxe Receiver HA360DR-II is compatible with all previous or current HomeAware transmitters and receivers. Giving you the flexibility to create a system to meet your specific needs - now and in the future.

A full operational battery backup keeps your system running, even when there is a power outage, and will even monitor if the battery is low, or if a link to another device has been lost.
Features:
Integrated Smoke / CO Listener with sensitivity adjustment
Dual wake-up alarm clock with adjustable alarm and snooze duration

Scrolling bright red large 2-inch display alert messages

Strobe, vibration, and audible (up to 105 dB) notifications
Caller number display for landline and video phone calls

Connection range up to 1,000 feet or approximately 305 meters

English, Spanish, and French Languages

USB smartphone charging port

Low battery and lost link monitoring

Fully Operational battery backup
One-year Sonic Alert Warranty
Super Shaker is 

NOT

 included 
*Requires the HomeAware II Main Unit Signaling HUB to work.  This Deluxe Receiver alerts in other rooms in your home or workplace away from the Signalinglling Hub.