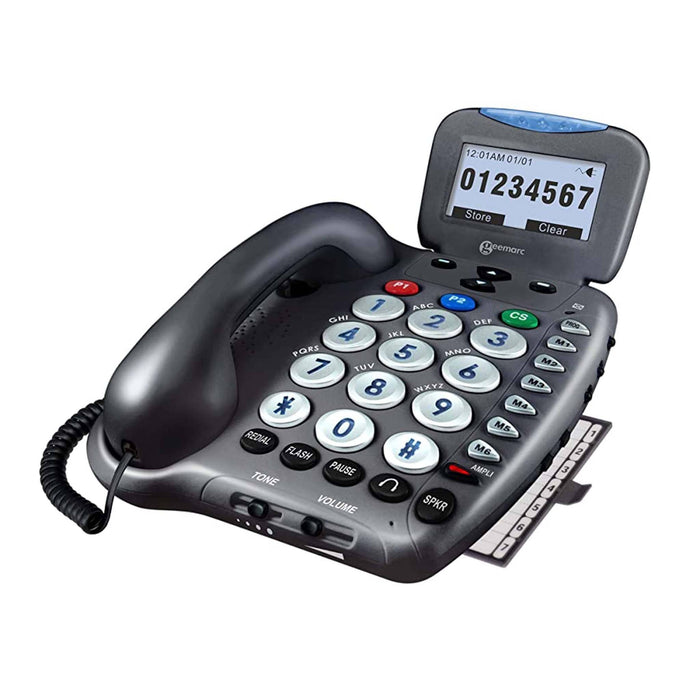 Geemarc Ampli550 50+ dB Amplified Corded Phone GM-AMPLI550
If you have decided to stop using your regular landline phone because it is too difficult to hear clearly, or are only able to hear certain voices, this is an option for you.
The Ampli550 boasts up to 52 decibels of extra loud handset amplification. It also incorporates an extra large LCD display screen, Talking Caller ID, an optional bed shaker (sold separately), and an extra bright flashing ring strobe.
The Ampli550 also includes an amplified speakerphone with up to +15 decibels of amplification. Large talking numbers and 9 memory dial buttons make dialing a breeze. Simply program all your important numbers into the phone for one-touch dialing.
The Ampli550 provides maximum amplification that's customizable to fit your needs. When the "AMPLI" button is pressed, the phone provides up to 52 decibels of crystal clear amplification.
Caller ID with large LCD display stores up to 99 incoming names and numbers with date/time stamps for each call.
AUTO ON HOOK FEATURE is an excellent solution to "NOT HANGING UP THE HANDSET ON THE PHONE" When the Auto on hook feature is on, your phone will automatically disconnect the line after 15 seconds if the phone is left off the hook. This will restore your line to be able to receive another call even if you leave the handset off the base.
Large 1" backlit easy to see and hear talking keys
Extra Large LCD Display Screen (3" wide x 1 1/2" high)
Talking Caller ID
AUTO ON HOOK, restore line after 15 seconds after the call is ended
Extra loud and clear Amplification, up to 52decibles of extra clear sound.
Easy to adjust Volume and Tone control
Amplified speakerphone up to +15dB
95dB loud ringer & Built-in strobe ring signaler
3-level Speech Output Control adjusts outgoing voice volume up to 12dB
9 one-touch memory dial buttons: 2 emergency, 6 standard, and 1 for customer service
2.5mm and 3.5mm audio jack for headset, neck loop, t-hook silhouette, or patch cord
Built-in strobe flashing ring signaler
3.5mm Vibrating Ring Alert jack for use with optional Bed Shaker (sold separately, part # SS12V)
Redial, Flash, Mute buttons
Uses four (4) AAA batteries for LCD display (not included)
Uses line power and AC power (included)
Desk or wall-mount, Hearing aid compatible
1 year warranty