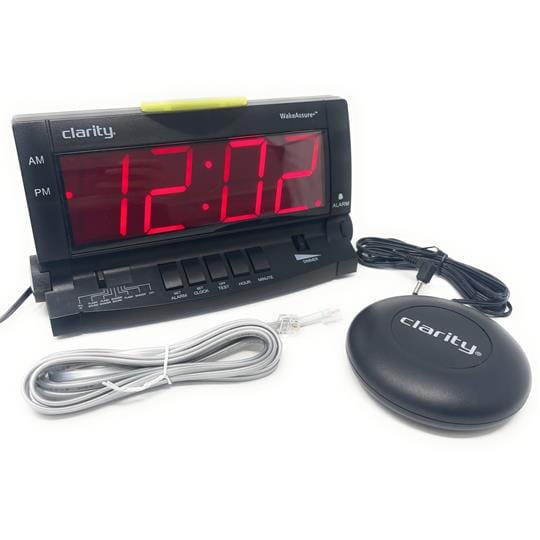 Clarity Wake Assure+ Extra Loud Alarm Clock
The Wake Assure+™ Alarm Clock, by Clarity®, will wake the deepest sleeper!

Built-in dimmer switch, volume adjustment, and tone adjustment let you customize the brightness of the clock and sound of the audible alarm to your liking. 
With an option to use the very loud audio alarm and/or the strong bed shaker; no one could sleep through this alarm!
This alarm clock will also alert you to analog landline phone calls.  
Loud 85+ decibel alarm
Easy to use alarm volume and tone controls can be adjusted to match your hearing loss.
Battery backup (9V battery - not included) to store time and program settings in a power outage
Alarm Clock dimensions are 20.5 cm Long X 8 cm Wide X  10 cm High
5.5 cm or 1.8" tall number display
Has a 5 minute Snooze cycle
Bed shaker with a pin jack included
Analog Landline phone cord included to notify of phone calls
Bright 1.8" LCD display and visual alarm indicator
One (1) year limited warranty
Includes
(1) Alarm Clock
(1) AC Adapter
(1) Bed Shaker
(1) Telephone cord