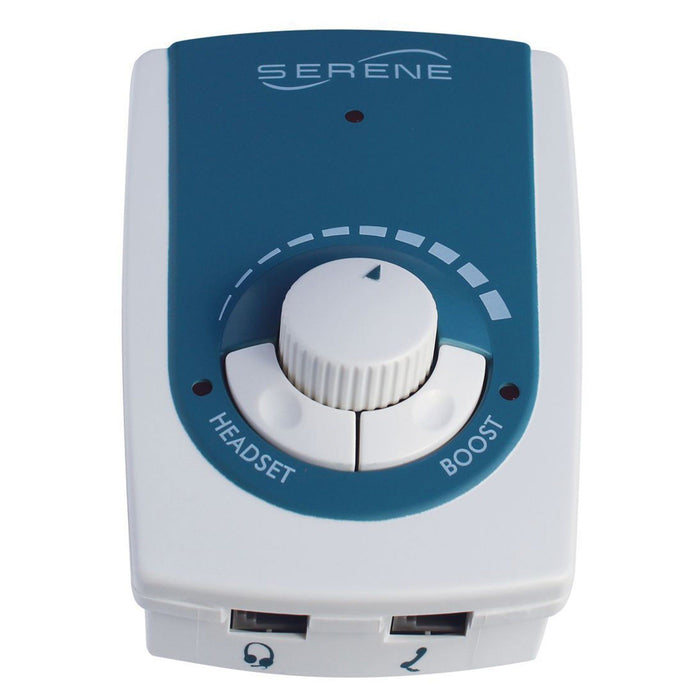 Serene Innovations Phone Amplifier Model UA-50
Don't miss out on the ability to amplify your phone. The Serene UA50 Home or Business Telephone Amplifier increases incoming volume for the telephone Handset or Headset up to 45+dB. It converts virtually any analog phone into an amplified telephone.
Amplifies incoming voices up to 170 times (45+dB)
Tone Control - adjust incoming voice to match your hearing loss
Patented technology enables it to work with virtually all corded analog home or business telephones (

not

VoIP systems)
High Definition Sound (HDS) technology eliminates virtually all distortion, echo effects and unwanted static
Digital Tone Enhancement boosts and enriches the speech frequencies that you can't hear well, making difficult to hear words intelligible again
Automatic Volume Control optimizes sound level for superior listening comfort.
AC adapter included
Back up Battery (9V) not included.
One year warranty
UA-50 FAQ
Q: Can I use a headset (sold separately) with 2 2.5mm plugs?
A: Yes, you can; but, you need a connector adapter that is available from Serene Innovations.
Q: Can I amplify the handset and headset simultaneously?
A: No you can't. The UA-50 can only amplify either the handset or headset at any given time.
Q: What type of battery is used?
A: The UA-50 uses a commonly available 9V alkaline battery as power back-up. The battery is not needed as long as there is power to the ac adapter.
Q: What will happen if I don't have battery back-up during a power outage?
A: UA-50 will not work. In case of emergency, you can set the "compatibility" switch to position 7 to bypass UA-50 so you can hear the un-amplified sound.