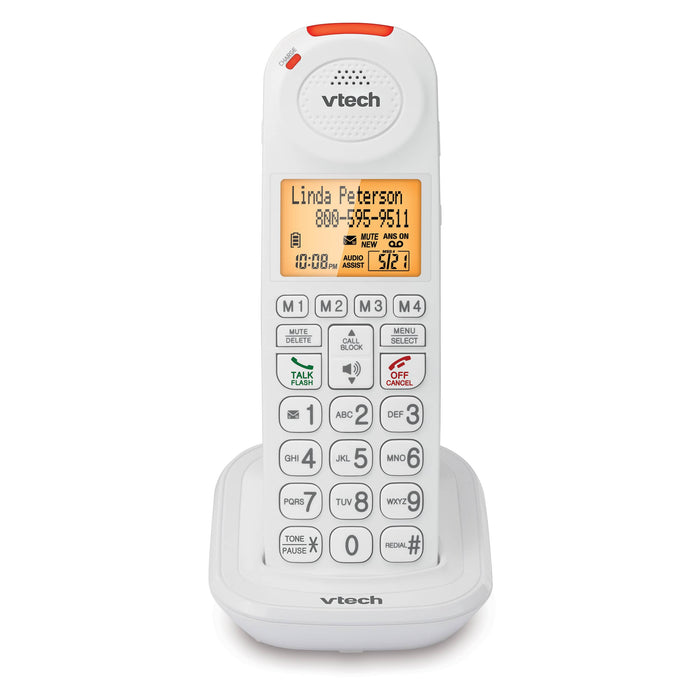 SN5107 Amplified Accessory Handset with Big Buttons and Display (50db) For Vtech SN5127 & SN5147 Phone Systems
Make independent living easier with the Vtech Careline SN5107 Amplified Accessory Handset with Big Buttons and Display. Designed for seniors and the hard of hearing, this system features large buttons and displays, an extra-loud ringer, and a flashing light indicator to make dialing and receiving calls as simple as possible.
Features
Accessory handset only - requires the Vtech SN5000 series phone to operate (sold separately) SN5127 or SN5147
50dB Audio Assist lets you turn up the volume on your conversations to make hearing and speaking easier.
Big buttons and large display are easy to read when making calls
Loud 90dB decibel ringer volume makes it easier for the elderly and hard of hearing individuals to hear when the phone is ringing
Flashing light on the top of the handset flashes when the telephone rings, visually alerting you to incoming calls
Smart Call Blocker automatically blocks robocalls and allows you to permanently blacklist up to 1000 numbers with one-touch
Full duplex handset speakerphone allows you to talk on the phone hands-free
Trilingual prompts accommodate those who speak English, French, or Spanish
If you subscribe to digital subscriber line (DSL) high-speed internet service through your telephone line, make sure you connect a DSL filter (not included) to the telephone wall jack. 
This is an Accessory device only—requires the SN5127 Amplified Cordless Phone with Answering System or SN5147 Amplified Corded/Cordless Phone with Answering System to operate.
Additional Accessories can be added to this system:
Amplified Cordless Extention Ringer VTech SN7014 
Cordless Audio Doorbell Vtech SN7021
Wearable Home SOS Pendant VTech SN7022