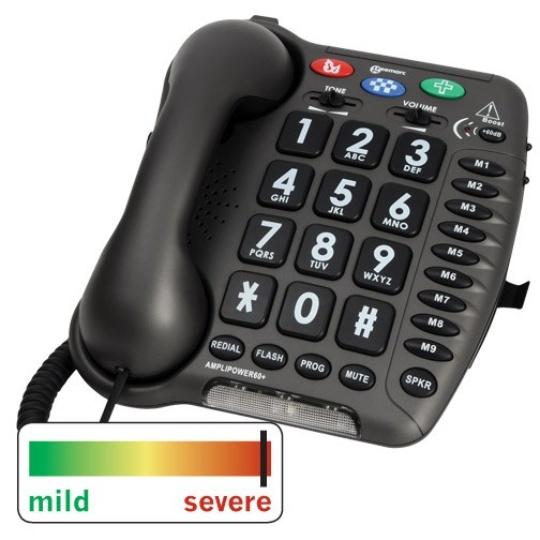 Geemarc Amplipower60 Extra Loud Amplified Telephone
Have you decided to stop using your regular landline phone because it is too difficult to hear clearly, or are only able to hear certain voices? Then this is the phone for you!
The Geemarc AmpliPOWER60 is one of the loudest and simplest amplified phones to use. It amplifies voices up to 67dB, so you won't miss a word of what the caller says.
The boost override switch will allow access to maximum amplification with every call if needed. Set this for all calls or adjust as you talk to each individual person. 

Tone control allows for more clarity by adjusting the callers' voice frequency to increase or decrease the bass and treble depending on your hearing loss. 
Is this phone right for you? This phone is recommended for moderate to profound hearing loss.
Handset amplification up to 67dB
Boost override option
Tone control for clarity of caller's voice
Speakerphone
Visual ringer light
Adjustable 90dB ringer volume and tone controls
Last number redial
Nine one-touch memory buttons
Three emergency buttons
4 (AAA) Battery back up (not included)
2.5mm headset jack and jack for optional bed shaker (not included) 
Handsfree Powered Neckloop (not included)
Hearing aid compatible with Telecoil program
Wall mountable
One year warranty