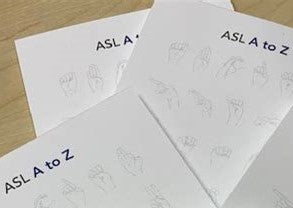 American Sign Language (ASL) Note Paper Pad
Deaf & Hear Alberta branded ASL A to Z note paper pad. 
Individual American Sign Language (ASL) handshapes of the letters of the alphabet are featured in the background of each paper sheet. 
Sold individually
Pad measures 16.7 cm long by 11.6 cm wide 
Approximately 50 pages per note pad
Want to learn American Sign Language? Browse all our ASL course offerings at https://bit.ly/35hpsN5 and email info@deafandhearalberta.ca if you have any questions.