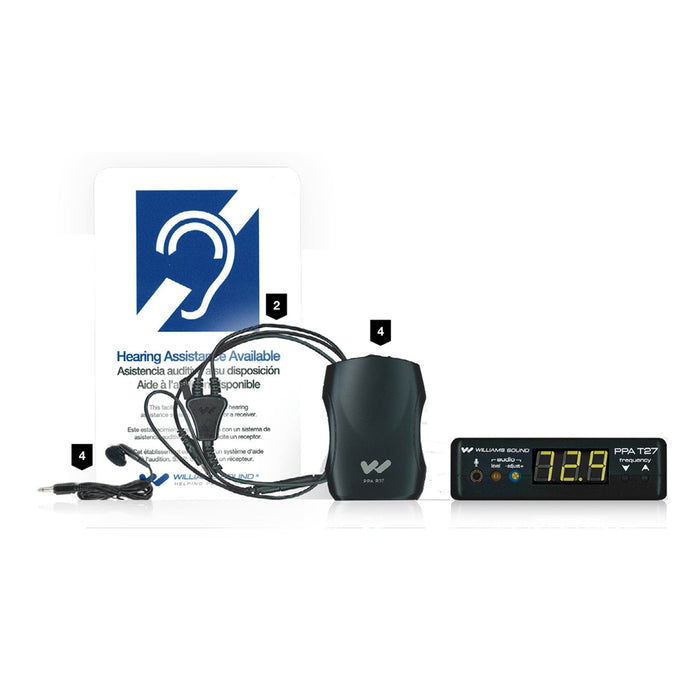 Williams Sound PPA VP 37 PERSONAL FM PA VALUE PACK SYSTEM
A listening system for four or more hard of hearing listeners. Additional R37 Receivers can be added as needed.  
The Personal PA Value Pack FM System broadcasts a speaker´s voice, music, or audio wirelessly from your audio system to a listening audience. Making this system perfect for religious services, meetings, conferences, and performances in auditoriums.  
Participants using the (included) single-channel receiver with a earbud, or t-coil neckloop can listen to the broadcast at the volume of their comfort.

The cornerstone of the Value Pack System is the T27 transmitter, featuring an LED display panel and push-button channel selection for easy operation. This System has 17 available channels and operates on 72-76 MHz.

This system is covered by a Lifetime PLUS Limited Warranty. 90 days on accessories.

The system includes:

(1) PPA T27 Transmitter
(4) SELECT PPA R37 Receivers
(4) BAT 001-2 AA batteries
(4) EAR 013 single mini earbuds
(2) NKL 001 neckloops (t-coil)
(1) IDP 008 Wall Plaque
(1) WCA 013 Audio Cable
(1) ANT 021 Antenna
(1) TFP 036 Power Supply
HED 021
can be purchased separately. 
Applications:
Jury Rooms
Small Meeting Rooms
Council Chambers
Parent/Teacher Conferences
Libraries
Small Conference Rooms
Consultation Rooms
Information Desks
Features
Simple set-up and operation
PPA T46 transmitter
45 meter or 150 foot operating range
100 hours receiver battery life
Lifetime PLUS Limited Warranty (90 days on accessories)
Made in USA