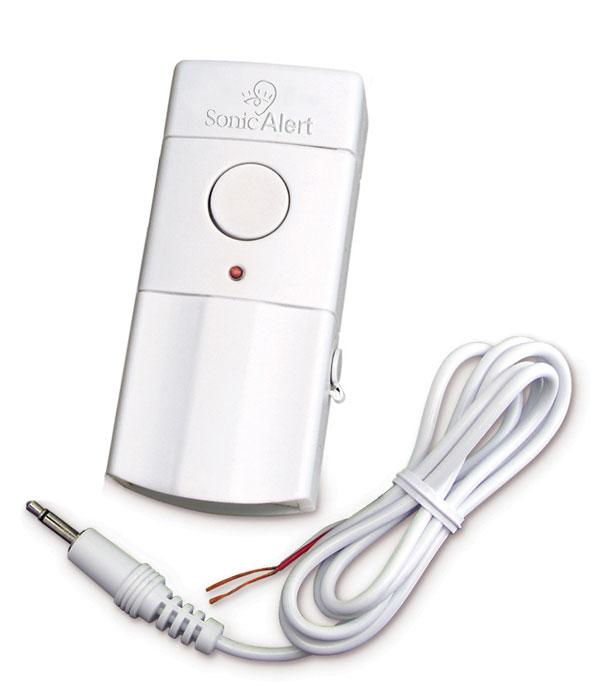 Sonic Alert HomeAware™ Wireless Doorbell or SOS Button HA360DB2-1
The HomeAware™ doorbell transmitter requires no wires and can be installed in seconds. You can add up to four additional doorbell transmitters to alert you of visitors at other doors. 
The button can also be used as a portable personal SOS alert!
The Transmitter alerts up to 5 different door locations, for example; FT DOOR and BK DOOR, or by pressing the button on the transmitter will alert (HELP). 
Comes with two #357 silver oxide long-lasting batteries and can be placed anywhere in your home to connect easily to the main unit. It has a range of 305 meters or 1000 feet. **The signal may be reduced if metal or concrete material is placed between the doorbell button and the main receiver (metal door frame or concrete walls). 
Optionally, you can install the HomeAware™ transmitter to your existing AC powered doorbell chime. This method allows you to use the existing doorbell button so there aren't two buttons outside.  The doorbell button comes with a patch cord and full installation instructions.  
1 Year Limited Warranty from Sonic Alert
**This device requires a HomeAware™ receiver II to operate. 
Each Doorbell/Multi-Purpose Transmitter can be programmed to alert you to one of seven different events. When linking the HA360DB to the HA360M Main Unit, you can choose for the scrolling text to read:

Door, Back Door, Front Door, Door 3, or Door 4: The transmitter can be wired into an existing A/C powered chime box

or

can be used as a wireless doorbell button.
Help: Press the button on the transmitter and the scrolling text "help" will be displayed when someone requires your assistance. 
Alert: Press the button on the transmitter and the scrolling text "Alert" will be displayed when someone require your attention.