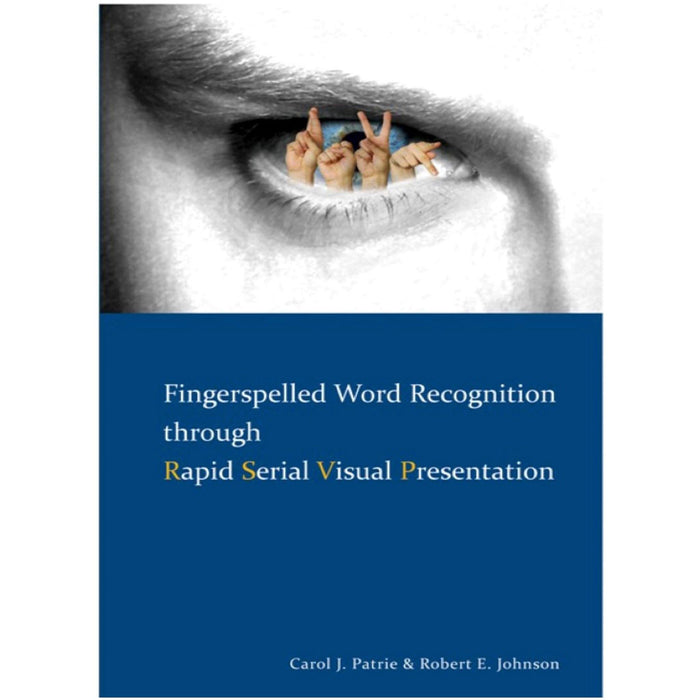 DawnSignPress ASL Fingerspelled Word Recognition through Rapid Serial Visual Presentation (RSVP)
The authors have spent years researching and creating a one-of-a-kind program. RSVP leads you through the theory behind fingerspelling, provides you with abundant practice, and rewards you with improved recognition of fingerspell words.
RSVP
can be used in the classroom or for self-study.
TEXTBOOK
- explains the form and function for the types of fingerspelling:
Careful
Rapid
Lexicalized
CD ROM
- provides the method (tools) to "train your brain" for processing serial information
DVD
- using ASL monologues, allows you to take everything you have learned and put it together for successful fingerspelled word recognition!
Learning and practicing this extensively researched approach is the key to unlocking the mystery of understanding fingerspelling.
This is a Special Order item and is not returnable once opened.

 Please allow 2-3 weeks delivery.  Price may change from supplier.  Please call for information. 
About the authors:
Carol J. Patrie, Ph.D.
known nationally and internationally,
was instrumental in designing the Master of Arts in Interpretation program at Gallaudet University. Patrie is one of the foremost professionals in the fields of interpretation and education, with a focus on curriculum and materials design, national standards, and education for educators.


Robert E. Johnson, Ph.D.
is Professor of Linguistics at Gallaudet University, Washington, D.C., where he has been teaching and learning since 1982 in the Department of Linguistics, where he has served as Department Chair for eleven years. He is co-author of the widely read monograph, "Unlocking the Curriculum: Principles for Achieving Access in Deaf Education."
Product Details
Authors

Carol J. Patrie and Robert E. Johnson
Components

1 book, 1 DVD, 1 CD-ROM
Length

192-page book, 187-min DVD
Item Number

2204
Copyright

2011
System Requirements

Mac - OS X 10.6, PC - Windows 7

This item is not returnable once opened.