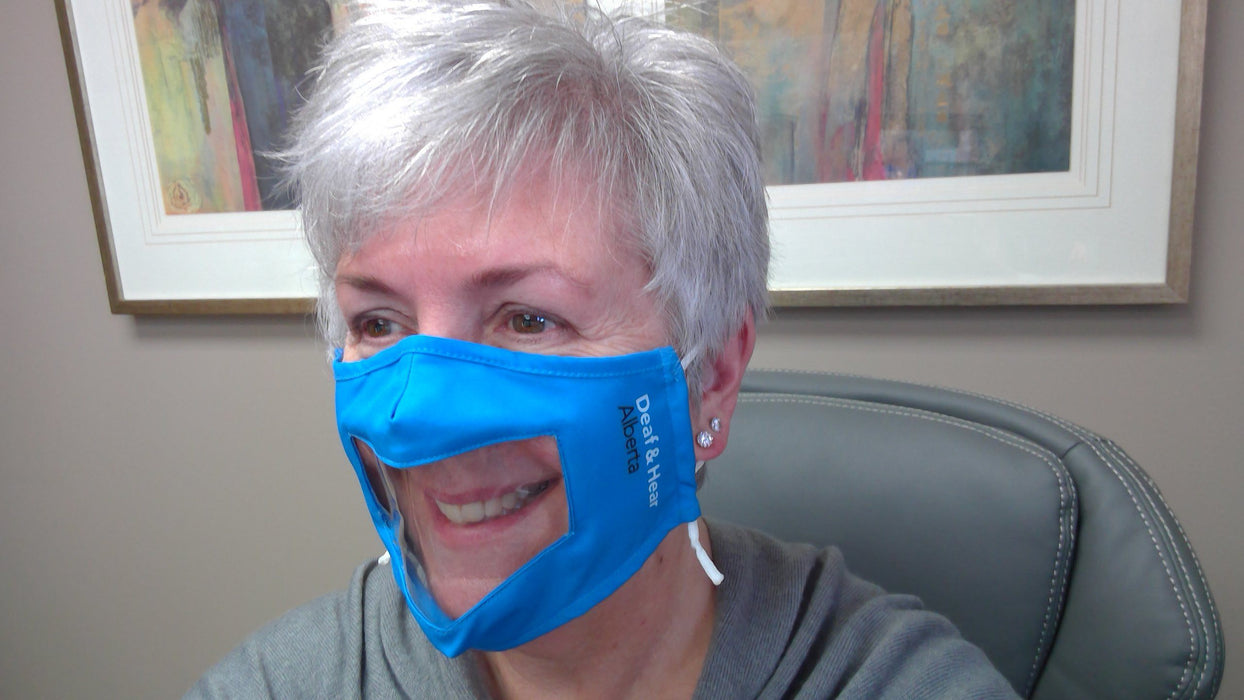 Blue Fabric Mask with Clear Window and Drawstring Ear Loops
Make communication easier.  Ask people to wear this mask so that you can see their mouth and lips to help with communication. Speech and lip readers will appreciate the clear window to assist with visual communication.  
Reusable and washable blue polyester fabric face mask with a clear window. 
An 11 cm by 6 cm see-through vinyl window allows for lip-reading and a better view of the speaker's facial expressions.  This feature is very useful for communicating with Deaf and hard of hearing family, friends, and clients.

ONE SIZE ONLY -This mask measures approximately 20.5 cm across with a bendable nose wire along the top edge.  The top to bottom measurement in the middle of the mask is approximately 13 cm and 7.5 cm at each end near the ears.    
This face mask is worn with two adjustable drawstring loops on each side that fit behind the ears. The loops can be made long enough to wear the face mask with "mask clips or ear savers" as well (clips are not included). 
Please hand wash the mask before wearing it, using a gentle detergent, and air dry.  A tiny drop of dish soap rubbed onto the inside of the window with a dry clean cloth will help with any fogging issues. 
All sales are final. 
The decision to use this mask is solely your own. Remember that the use of face masks is not intended to replace other recommended measures to stop the community spread. Practice social distancing and washing your hands.